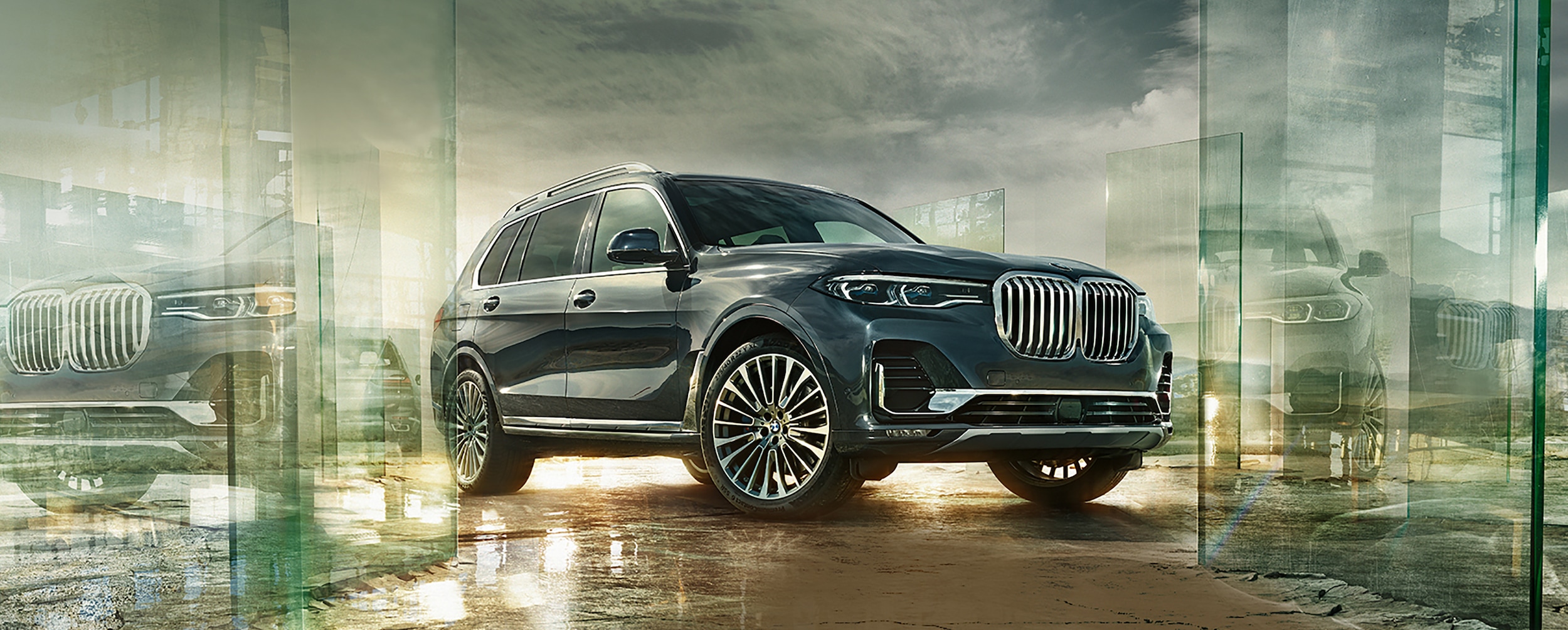 New BMW X7
For Sale in Allentown, PA
Experience Luxury and Excitement in the 2020 BMW X7
Many drivers are looking for a large SUV to suit the needs of their life and there is no better option for that than the 2020 BMW X7. Having the power and sophistication that you would expect from BMW, the X7 has the space and features that your family, friends, or coworkers will enjoy whenever they get inside. We want to give you the closest look possible, which is why we encourage you to visit our Allentown, PA BMW dealership to see the new BMW models that we offer.
Space and Tech
Space and Connectivity
The 2020 BMW X7 has an interior that will suit the needs of any adventure or road trip that you have planned. One of the most important aspects of the 2020 BMW X7 is the cargo space. You can have up to 12.8 cubic feet of space behind the third row of seats, 48.6 cubic feet behind the second row, and a massive 90.4 cubic feet when you fold down all the seats. The variety of seating configurations makes the cabin uniquely suited to fit everything that you might need to bring along. Everyone will also enjoy the quad-zone climate control system that comes standard.
Another important aspect of your drive is connectivity. The 2020 BMW X7 comes equipped with a 12.3-inch touchscreen, Bluetooth, five USB Ports, and Apple CarPlay Integration, making sure you will always have access to the media and apps that you are looking for.
Power and Safety
Power and Safety
You will expect a large SUV to have a powerful engine so that you never need to worry about loading the cabin to the max. The 2020 BMW X7 exceeds the expectations of power with a 3.0-liter BMW TwinPower Turbo inline 6-cylinder engine that puts out up to 335 horsepower. If you don't think that sounds like enough power for the roads around Bethlehem, PA, then you can upgrade that to the 4.4-liter BMW TwinPower Turbo V-8 engine that makes up to 456 horsepower. If you are someone who values thrill and excitement above all else, the 4.4-liter engine can be tuned for up to 523 horsepower to keep you smiling. Each of these engine options come equipped with all-wheel drive to give you the best control wherever you go.
While all-wheel drive is a good start, you will need more to ensure you are always feeling confident while in the driver's seat. You will get many standard driver assistance features in the 2020 BMW X7 to look out for you even if there is traffic while driving through Reading, PA. Some of the standard safety features that you will find include Lane Departure Warning, Automatic Emergency Braking, Adaptive Cruise Control, Lane Departure Warning, Blind Spot Monitoring, and many others. There are also more advanced systems that are available, including the hands-free parking assist, night vision camera, and surround-view parking camera.
Trim Levels
Trim Options for the 2020 BMW X7 Near Nazareth, PA
The new BMW X7 has several different trim levels to give you all the features and options that you might be interested in. We will be able to show you each of these options when you visit our dealership, getting you on a test drive so that you can be sure you are getting everything that you and your family will need no matter where the road takes you.
The base trim is the 2020 BMW X7 xDrive40i. This trim comes with many of the most advanced systems as standard, putting it ahead of the competition before you even get inside. If you are looking for more sophistication or a stronger engine, you can upgrade trims to the 2020 BMW X7 xDrive50i. No matter which of these trims you choose, you will be getting excitement and elegance whenever you get inside.
If you are looking for a sportier design – both inside and out – as well as the most powerful engine, the 2020 BMW X7 M50i is the one that you will want. With exclusive badging, color options, and body pieces, this trim does not struggle when it comes to standing out from the crowd. BMW M models are specially designed to give you a heart-pumping experience whenever you are in the driver's seat, and the 2020 BMW X7 M50i is no different.
Visit Daniels BMW in Allentown, PA for a Closer Look
Our team is here to answer your questions and to make sure you can be confident whenever you are driving the vehicle that you choose from our dealership. The entire BMW lineup has exciting and sophisticated options, including the 2020 BMW X7, and all it will take is a test drive for you to see which is the one that you will want in your life. Our team wants to simplify the search for you, giving you a wide selection of vehicles to choose, including many used models, so that the only stop you need to make is at our Allentown, PA BMW dealership. We encourage you to visit our dealership soon so that we can get you moving towards your next vehicle. No matter if you are looking for a sedan, SUV, or convertible, we will be able to find the one that will suit the needs of your life.